If your shopping cart has goods of total amount
you can apply this 10%OFF code: 
If your shopping cart has goods of total amount
you can apply this 15%OFF code: 
If your shopping cart has goods of total amount
you can apply this 20%OFF code:
AND
Special offer for ARCHITECTS, GENERAL CONTRACTORS and DESIGNERS.
AND
Big discounts for stainless steel floating shelves and countertops Ponoma with small delivery damages (for local pick up only). Such items can be used in basement, laundry, garage, outdoor, etc.: 
INSTALLATION SERVICE FOR SHELVES PONOMA IN CHICAGO AREA:
Whitmore Lake, Michigan, USA
David on Feb 25, 2018
"We purchased three 36"x12"x2.5" stainless steel floating shelves for our kitchen and we are very happy with the quality and look of these shelves. Uri was very fast in responding to all queries and shipping took less than a week. I would gladly recommend these shelves for your home. My only suggestion would be to not use the 18 screws and 18 plastic anchors for installation. Instead we used 6 SNAPTOGGLE anchors per shelf which we believe will be much more secure as each anchor is rated to hold 150 pounds."
g i on Feb 10, 2018
" I searched high and low for a seamless stainless steel shelf. I needed a specific size and ended up ordering a custom shelf. It was super easy communicating with Uri - he answered all of my questions with a quick response time. There weren't many reviews at the time of my order, so I was initially hesitant, but I'm glad I ordered the shelf as it turned out to be exactly what I was looking for. Also, the prices can't be beat. Thanks Ponoma for a beautiful, quality product!  "
 julif2 on Feb 9, 2018
26 " x 10" x 2 1/2 " : STOCK RANGE of shelves Ponoma - 2  pcs.
" Items is fabulous quality and arrived earlier than expected. The only reason for less than 5 stars is that I felt I needed to switch out some of the mounting hardware. That could entirely be my own flaw though. I do recommend these shelves and Uri was seamless to work with. "
Laurie Fleishman   on Feb 8, 2018  
33 " x 10" x 2 1/2 " : STOCK RANGE of shelves Ponoma - 2  pcs.
" We love the stainless steel shelves- we would highly recommend you - you have been very professional in handling any problems that arose. Thanks so much.  Laurie "
Peter Velez on Jan 10, 2018 
36 1/4" x4" x1" : custom shelf Ponoma - 1pc.
Great service, good price & beautiful shelf, custom built to the size we needed. Searched all over the internet & couldn't find what we were looking for. Highly recommended.
Paul on Jan 2, 2018
24"x12"x2 1/2" STOCK RANGE shelf Ponoma art. UASH-24122.5-BD   - 3pcs.
These shelves absolutely blew me away. The construction is far superior to anything you'll find in a big box store, the pricing was very competitive. Will be buying many more for future projects.The craftsmanship on these shelves is something you just can't find anymore. Impeccable work, super strong and well engineered/fabricated. Can't wait to use them again in future projects.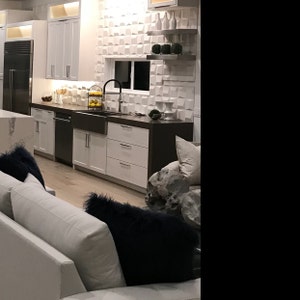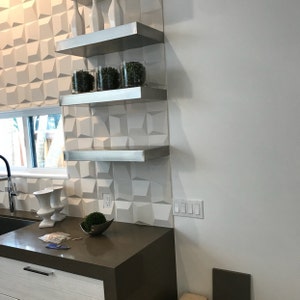 I love these shelves in my kitchen. They are very well constructed and sturdy. It took a little time to get them, but well worth the wait. The store owner responded timely to all of my questions and provided great customer service. I loved these so much I ordered another one . Loved my first order so much we ordered more! Wonderful product- definitely recommend!